Eric Heiden, M.D.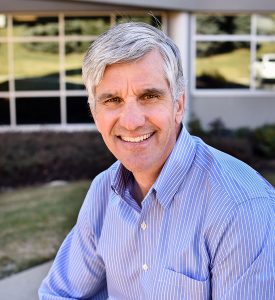 Orthopedic Knee and Shoulder Surgeon
Dr. Eric Heiden is the knee, shoulder and sports medicine specialist at Heiden Orthopedics. Although many claim "sports medicine" to be their specialty Dr. Heiden embodies the term like no other orthopedic surgeon.
Earning more medals in a single Olympics than any previous Olympic athlete and setting 15 world records in his speed skating career, Dr. Heiden is a true American sports icon. At the 1980 Lake Placid Olympic Winter Games, he won the Gold in all five speed skating events, including sprint and distance, while setting four Olympic records and one world record.
After retiring from speed skating, Dr. Heiden began a second career in cycling. He quickly rose to the top, winning a United States Cycling Championship and competing with the 7-11 team in the 1986 Tour de France just a few years later. By 1991, Dr. Heiden had earned his medical degree from Stanford University and was ready to begin his third career – what he considers his life work – as an orthopedic surgeon specializing in sports medicine.
In 2006, Dr. Heiden and his wife, Dr. Karen Heiden, relocated to Park City and worked at "The Orthopedic Specialty Hospital (TOSH)," In 2008, Drs Eric and Karen Heiden established their own orthopedic practices in Park City and Salt Lake. As an orthopedic surgeon, Dr. Heiden finds that his experiences skating and cycling help him form a unique connection with his patients, many of whom are injured athletes.
On Staff at:
LDS Hospital, Salt Lake Regional Medical Center, Park City Medical Center
Appointments:
Call (435) 615-8822
Contact:
Testimonials
Dr Eric Heiden performed knee replacement 4 weeks ago. I have been so impressed with Dr Heiden and the entire staff. I had my first knee replaced 12 years (different surgeon) and am so happy with the progress of this one so early on. Extremely caring - little to no waiting. I have seen Dr Heiden each time I've been to his office and he has been very generous with his time. I have never been relegated to seeing the PA. Really happy with my choiceBrent Jones

The office is very accessible, the staff is warm and friendly. We have been seeing Eric Heiden for several years and highly recommend him for shoulders and knees. He and his staff are very approachable so talking to them you feel they really care.Jane Morris

My experience with Heiden Orthopedics has been nothing but the best. Every single person has made me feel special. Their expertise is unsurpassed. I would recommend Heiden Orthopedics to anyone and everyone.Joel Preston

Wow! I had my two week check up today from Dr. Heiden doing a total knee replacement on my left knee. I am so impressed and pleased with Dr. Heiden, as well as all of his nurses and staff. They have been reassuring and encouraging throughout the entire process. I'm sure my progress and continued improvement can be credited to their conscientious, caring approach. Dr. Heiden is my hero! I would definitely recommend this amazing team! Thank you so much 😊JudyLyn Fanning

Injured on the slopes in Canyons, and as a Physician working in the U.K., I could not have asked for better care from Dr Heiden and his team. I fractured tibia and fibula, had surgery within 4 hours of accident and within 48 hours only required Tylenol for pain relief. Thank you.Lorna McDonald

You will never find a finer surgeon. Dr. Heiden is truly the best. He's caring, friendly, compassionate, professional, fun ............ and just plain good. His assistants and staff top it off and make for as good a medical experience one could have. I'll NEVER use anyone else for my old bones!Me Jones

Dr. Heiden and I are from the same hometown.... Madison, WI. Matter of fact - the very same high school... We used to watch him speed skate at Vilas Park and bike race around the Square! He did an excellent job repairing my husband's medial meniscus - so much so I was jealous of his mobility... I should have used Eric for mine. I was also a patient of Dr. Dickerson - recommended by a coworker. I'm on my feet a lot and he did everything to help me relieve the pain in my fore-foot. I appreciate physicians who do everything to help you NOT have surgery - but if you need it - bring you back to optimal levels of activity. Y'all are great!Molly Berigan Spira

Dr. Eric Heiden completed my right total knee replacement and did a wonderful job. The best thing I did was to have Dr. Heiden do this procedure. Dr. Heiden, the nurses and staff at the front desk are all very professional and courteous. Thank you Heiden Orthopedics!Robert Shinall

Dr. Eric Heiden is the absolute best and I highly recommend! Very hard working, conscientious, dedicated, disciplined and humble. Just a terrific person all around! I had ACL reconstructive surgery and a meniscectomy on each knee by him and I am still going strong years later and I have a very active lifestyle! Thank you Dr. Heiden and best wishes to you for continued success with your practice! And congrats on your excellent new and user friendly website! Bravo!Susan Evans