Daniel Mangiapani, M.D.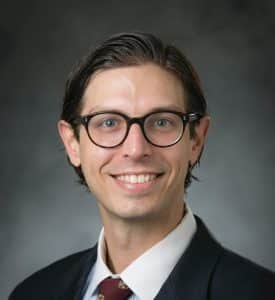 Orthopedic Knee, Hip and Shoulder Surgeon
Daniel S. Mangiapani, M.D. is a fellowship-trained orthopedic surgeon specializing in the preservation and reconstruction of the hip, knee and shoulder. He uses nonoperative, minimally invasive, arthroscopic, and open techniques to improve his patients' function and return them to the activities that they love. He specializes in primary, complex, and revision shoulder, hip and knee replacement (including muscle-sparing direct anterior total hip replacement), as well as partial knee replacement and robotic-assisted/computer navigation joint replacement procedures.
Dr. Mangiapani spent 15 years studying science and medicine at top-ranked Duke University in Durham, NC. He played Division-1 baseball at Duke in the Atlantic Coast Conference on an athletic scholarship. After graduating cum laude, he then went on to receive the North Carolina Board of Governors Scholarship to attend Duke University School of Medicine. He graduated at the top of his class, where his basic science research in arthritis contributed to the 2015 Kappa Delta Award, presented at the American Academy of Orthopedic Surgeons (AAOS) National Meeting.
He completed his residency in orthopedic surgery at Duke University Medical Center. Focusing on shoulder, hip and knee arthritis, he has published numerous award-winning papers resulting in invitations to speak at national and international conferences. Additionally, he participated as team physician for Duke University, North Carolina Central University, as well as Durham County high schools.
Dr. Mangiapani continued his post-graduate training by completing a fellowship in joint replacement surgery with Dr. Aaron Hofmann. He has pursued global service with Operation Walk Utah on their annual mission to El Salvador, where approximately 75 joint replacements are performed per trip.
He and his wife, Lisa, have 3 young children (ages 7, 4, 1) who keep them more than adequately occupied. During his free time, he enjoys skiing, golfing, smoking BBQ, and traveling with his family.
Hospital Privileges
Salt Lake Regional Medical Center
Appointments
Call (435) 615-8822
Contact